vents in Eastern MA and Western MA
Children's Vision Massachusetts Coalition Holds Summit to Help Address Children's Eye Health Issues and Discuss Vision's Impact on Learning. The focus of "Vision and Learning: Making the Connection," was the recently published NIH-funded research study "Uncorrected Hyperopia and Pre-School Literacy: Results of vision in preschoolers- hyperopia in preschoolers," which reports a significant correlation between the status of a young child's vision health and his or her ability to acquire early literacy skills. The programs included presentation of these findings and discussion of how to respond to them from a clinical, educational, and policy perspective. In addition, recognition awards were presented to organizations and institutions dedicated to the Children's Vision Massachusetts Coalition's vision that all children have the opportunity to develop their best possible vision.
Two Public Service Announcements
(one thirty second and one three minute) funded by the Blue Cross Blue Shield of Massachusetts Foundation, were launched at the events.
---
Eastern MA Event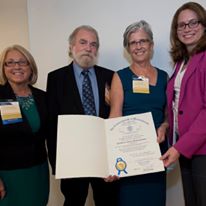 Rep. Christine Barber presenting Citation to CVMA Co-Chairs:
Jean Ramsey, MD, MPH; Bruce Moore, OD; Kathy Majzoub, RN, MBA
Speakers at the events included experts in literacy, pediatrics, child development, ophthalmology, optometry and public health. Jean Ramsey, MD, MPH, Boston Medical Center; Bonnie Strickland, PhD, Former Director of the Division of Services for Children with Special Healthcare Needs, MCHB, HRSA; Marilyn Augustyn, MD, Boston Medical Center; Louis Vernacchio, MD, Pediatric Physicians' Organization, Boston Children's Hospital; Katie Vozeolas, BSN, RN, NCSN, Nurse Supervisor, Haverhill Public Schools; Erin DiSanto, Parent Advocate; and Bruce Moore, OD, Marcus Professor of Pediatric Studies, New England College of Optometry were speakers at the Eastern MA event. Representative Christine Barber provided Legislative Remarks.
The Massachusetts Division of Insurance, the Massachusetts School Nurses, the Pediatric Physicians' Organization at Children's, ABCD Head Start and the Boston Public Schools, with partners New England College of Optometry, Benjamin Franklin Institute of Technology, 2020 On-Site Optometry and City Connects, were recognized for their commitment and accomplishments related to practice to improve vision health outcomes for children.
Catch the Complete Archived Webcast of the
EASTERN MA EVENT, VISION AND LEARNING: MAKING THE CONNECTION
Vision and Learning Summit, Eastern MA
---
Western MA Event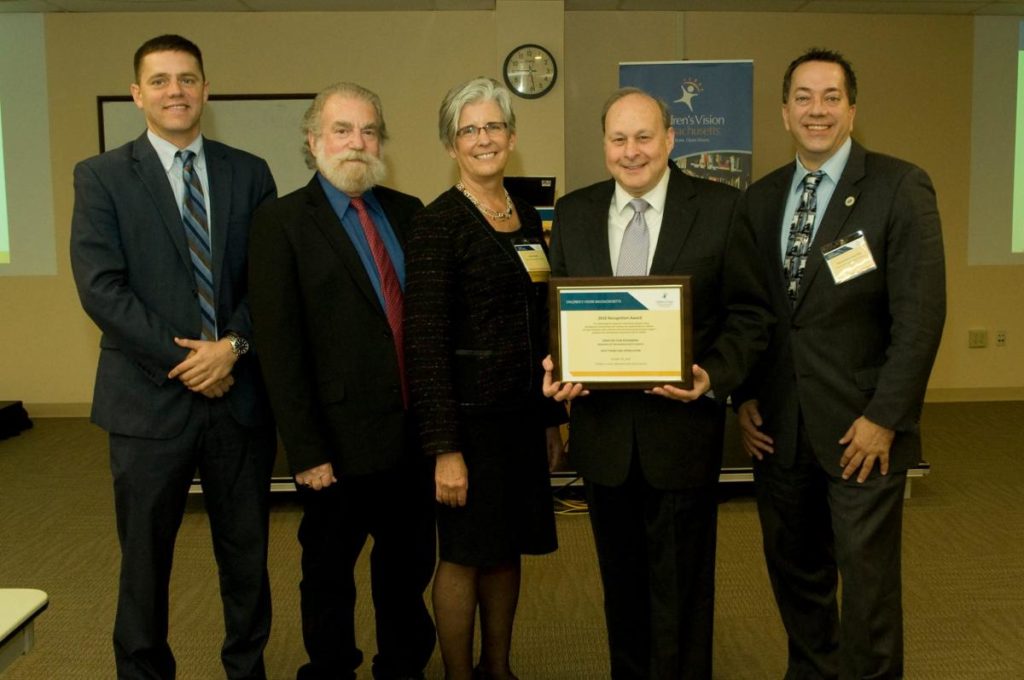 Senator Stan Rosenberg, Rep. Aaron Vega, and Rep. John Velis attend the event,
pictured with CVMA Co-Chairs Bruce Moore, OD and Kathy Majzoub, RN, MBA
At the Western MA event, presenters were Frank Robinson, PhD, Baystate Community Relations and Public Health; Charlotte Boney, MD, Chair, Department of Pediatrics, Baystate Children's Hospital, Baystate Medical Center; Nonie Lesaux, PhD, Harvard Graduate School of Education and Chair of Massachusetts' Board of Early Education and Care; Bruce Moore, OD, Marcus Professor of Pediatric Studies, New England College of Optometry; Andy Balder, MD, Medical Director, Pediatric ACO of the Pioneer Valley and Pediatrician/Internist, Baystate Mason Square Neighborhood Health Center; Gladys Rivera, Education Director, Holyoke, Chicopee, Springfield Head Start; Gary Wolf, OD, Palmer, MA; Veronica Perez-Tyburski, Parent Advocate; Sally Fuller, Project Director, Davis Foundation; and Carolyn Lyons, Director of Strategic Initiatives, Campaign for Grade Level Reading. Senate President Stan Rosenberg provided Legislative Remarks.
In Western MA, Partners for a Healthier Community, Baystate General Pediatrics High St. Health Center, Gentex Optics, EyeSEE Preschool Program Pilot Sites, and Lions District Y33 were presented with Recognition Awards
Catch the Complete Webcast of the WESTERN MA EVENT, VISION AND LEARNING: MAKING THE CONNECTION
Vision and Learning Summit, Western MA